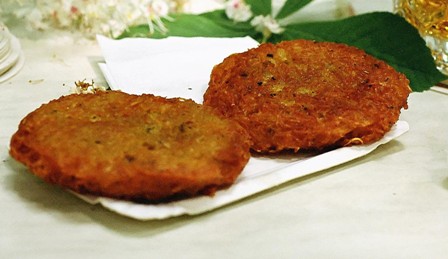 Potatoes are the most used side in Czech cuisine. Potato pancakes are called bramborák or cmunda and are very popular. You can either serve it simply as side dish or as main dish, for example with sauerkraut and salami. Potato pancakes goes well with goulash or katův šleh ("executioner's whipping").
Ingredients
1 kg of potatoes
cup of milk
1 egg
4 cloves of garlic
flour
marjoram
salt, pepper
oil for frying
optional: salami, bacon or ham
Directions
Peel raw potatoes, wash and shred. Pour off some water from shreded potatoes.
Season with salt and pepper. Add egg, marjoram and minced garlic.
Add milk and flour. Dough shouldn't be too thick.
Panfry in heated oil in shape of pancakes.
Potato pancakes serve fresh and hot.