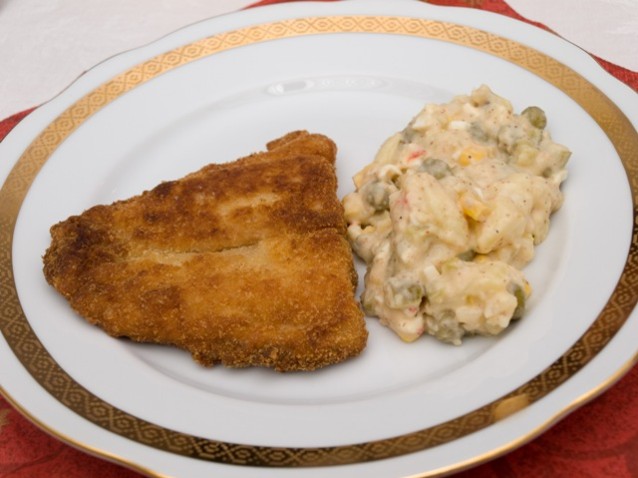 Potato salad is traditionally served with Schnitzel and cannot miss at Czech Christmas dinner table with carp. Every family prepare potato salad by their own recipe according to their taste and customs.
Ingredients
2kg of potatoes
3-4 carrots
1 celery root
onion
5 pickled gherkins
4 hard boiled eggs
canned peas
300g of ham
spoon of mustard
mayonnaise and tartare sauce (according to your taste)
salt, pepper
Directions
Boil unpeeled potatoes in water with salt and let cool off. Then peel potatoes and cut to small cubes.
Boil root vegeteables in water with pinch of salt and vinegar. Let cool off and cut to small cubes and mix with potatoes.
Same way add chopped onion and gherkins, cubed boiled eggs, peas, cubed ham and mix together.
Blend mustard and mayonnaise, season with salt and pepper. You can also pour a little of brine from pickled gherkins.