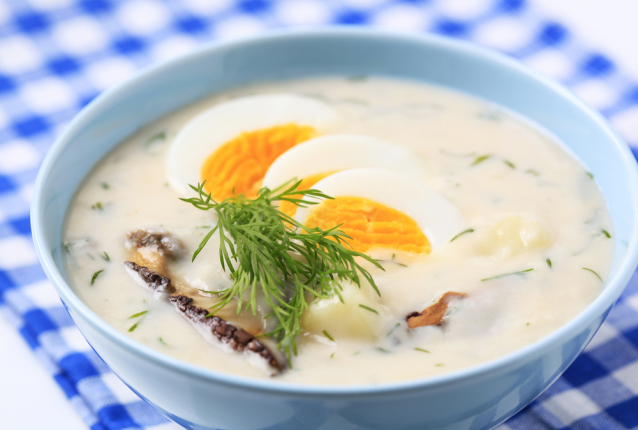 Kulajda is typical soup from mushrooms, dill and cream made in South Bohemia. Our great-grandmothers made it from milk, which was sour. Today we use sour cream. Recipes for this soup are many, because every family designed the soup according to their taste. Somebody prefers sweet cream over sour cream and others don't use dill. Even mushrooms are used fresh, dried or pickled. We have a traditional recipe for this thick creamy soup and you can improved as you want.
Ingredients
6 medium large potatoes
1 can of sour cream
1 cup of mushrooms
4 eggs
1-2 spoons of vinegar
3 allspice
3 peppercorns
1 bay leaf
caraway
2 spoons of flour
butter
dill
salt
Directions
Clean and slice the mushrooms. Melt butter in pot and stir-fry mushrooms.
Add cubed raw potatoes, spice and salt and pour water so potatoes are under.
When potatoes soften, put out the spice add sour cream with flour and boil.
Season soup with vinegar, salt and add chopped dill.
At last we prepare eggs. Break an egg and put it gently in boiled water with a spoon of vinegar. Slowly boil it for 3-4 minutes. Then put egg out and put in cold water.
Put egg in plate with soup.